Email to Editor:
Outrage, heartbreak over kidnapping of Nigerian school girls
From: The White House, Thursday May 29, 2014 2:02 P.M. To: InterChurchNews@live.com
Dear Keith:
Thank you for writing. Along with millions of people across the globe, Michelle and I are outraged and heartbroken over the kidnapping of more than 200 Nigerian girls by the terrorist group Boko Haram. No child should be forced to live in fear for getting an education and pursuing her dreams.
The United States will not forget the people of Nigeria during this difficult time. At my direction, and in coordination with our international partners, our Government is providing extensive assistance to help find these girls and bring them home to their families.
As the Nigerian government works to root out Boko Haram and associated groups, we will keep providing assistance to help them develop a comprehensive approach to handling the threats posed by these groups. And we will continue aiding Nigeria as it dismantles thsee networks of terror and takes meaningful, effective actions to create a future safe from the horrors we see today. Combating terrorism means protecting civilians and ensuring respect for human rights -- not only Nigeria, but around the world.
The United States is commited to doing its part to help prevent mass atrocities, protect basic human rights, and promote opportunity for all. We do so in partnership with other governments, the United Nations, and with religious institutions, unions, and civil organizations both at home and abroad.
More broadly, promoting peace and prosperity means securing equal rights and opportunity for women and girls. When women succeed, nations are safer, more secure, and more prosperous. We will continue empowering women and girls everywhere to pursue the education that is their birthright, and to participate fully in their societies.
Thank you again your message. In these Nigerian girls, many of us see our own daughters. Their courage pushes us to fight to ensure all children have the opportunities they deserve and the chance to reach their fullest potential.
Sincerely,
Barack Obama
_________________________________
H.R. 1276 -- Protecting Minors from Medical Malpractice Act
Ken Calvert -- United States Representative for California's 41st District
Representative Ken Calvert <CA41KCima@mail.house.gov>
April 28, 2023
Dear Mr. Sloane,
Thank you for contacting me regarding H.R. 1276, the Protecting Minors from Medical Malpractice Act. I appreciate the opportunity to respond.
As you know, H.R. 1276 was introduced by Representative Jim Banks (R-IN) on March 1, 2023. The legislation makes a medical professional who performs a gender-transition procedure on a minor liable for any physical or psychological harm that may stem from the procedure for 30 years. H.R. 1276 was referred to the House Committee on Energy and Commerce for further review and debate. Although I do not sit on the committee of jurisdiction, I will keep your support in mind should H.R. 1276 come to the House floor for a vote.
On the issue of transgender people, I share your concerns regarding the advancement and affirmation of transgender ideologies, especially among children. I believe it is irresponsible for those in position of authority, especially the Biden Administratino, to be advocating for irreversible, life-altering surgeries for anyone under the age of 18, particularly when their minds and bodies are in critical stages of development. Any effort to fundementally inhibit the natural bodily processes from taking place will create serious, long-term consequences. It is important to note that many of the medications being used as puberty-blockers have not been FDA-approved and have rendered some people infertile. We must protect our kids and not allow them to be manipulated into treatments that will forever change the course of their lives. Rest assured, I am watching this issue closely and working with my colleagues in the House to combat this dangerous new initiative that harms our children.
Once again, thank you for your correspondence. I hope you will continue to contact me regarding issues of importance to you and your family. In the meantime, I encourage you to visit my websitenat http://calvert.house.gov/ and sign up for my weekly e-newsletters. For urgent updates on critical issues, follow me on Twitter (@KenCalvert) and check out my Facebook page (Congressman Ken Calvert).
_________________________
RE: No Tax Dollars for Transgender Surgeries for Kids
May 11, 2023
United States Senate
Washington, D.C. 20510
Dear Mr. Sloane
Thank you for writing to share your thoughts regarding the transgender community. I appreciate hearing from you.
As a strong supporter of all LGBTQ+ communities, I am committed to ensuring that everyone, regardless of their gender identity or sexual orientation, receives equal protection under the law. We must also ensure that all members of LGBTQ+ communities are able to fully participate in all areas of American civic life. Whether it be housing, employment, or health care, members of the LGBTQ+ communities are too often subjected to discrimination and are denied equal opportunities. I believe that all Americans should be free to be who they are and should be protected from discriminiation on the basis of how they identify or who they love.
While we may disagree on this issue, I hope you will continute to contact me about issues of importance to you.
Once again, thank you for writing. Should you have any other questions or comments, please call my Washington D.C. office at (202)224-3553 or visit my website at padilla.senate.gov.
Sincerely,
Alex Padilla
United States Senator
______________________
RE: Border Security
June 29, 2023
United States Senate
Washington, DC 20510
WashingtonU.
Dear Mr. Sloane,
Thankn you for writing to share your support for border security. I appreciate hearing from you.
I support reforms to enhance border safety, such as investments in smart technologies, addressing the root causes of migration, and providing a path to permanency for the over 11 million undocumented immigrants currently living in the United States. We can address all these things at once, one is not a percursor to the other.
That is why I strongly supported the "U.S. Citizenship Act of 2021," introduced by Senator Bob Menendez (D-NJ). This comphrensive legislation would have made smart and effective investments to secure our border while addressing the root cause of migration that force people to leave Central America. It would have also provided a pathway to earned citizenship for the over 11 million undocumented immigrants who are already living in the United States, many of who lived in the United States for decades.
As a member of the Senate Judiciary Committee and as the first Latino Chair of the Senate Subcommittee on Immigration, Citizenship and Border Safety, please be assured that I will keep your thoughts in mind as the Senate continues working on this important issue.
Sincerely,
Alex Padilla
United States Senator
____________________
Email to Editor:
6.14.2014
Dear Keith:
Thank you for writing to me about the recent kidnapping of over 250 Nigerian school girls. I appreciate hearing from you on this distressing situation, and I welcome the opportunity to respond.
As you may know, news sources have reported that on April 14, 2014, a group of militants kidnapped approximately 276 Nigerian girls from the Government Girls Secondary School dorms in the city of Chibok, Nigeria. Soon after, the terrorist organization based in northeast Nigeria known as Boko Haram publicly took responsiblity for the abduction. Recent videos released to the media by Boko Haram's leader state that the terrorist organization plans to sell the girls into slavery unless certain conditions are met.
I strongly support actions to locate and capture the terrorists responsible for the rephrensible act and ensure that all these girls are safely returned home. Many nations, including the United States, have sent help to the Nigerian government in order to help bring the kidnapped girls back to their families. On May 6, 2014, President Obama announced that the United States will be sending military and law enforcment advisors to Nigeria in order to support efforts to rescue the girls. Additionally, on May 1, 2014, I supported the passage of Senate Resolution 433, a resolution condemning the abudction.
For your convenience, I have included my most recent statement on U.S. assistance in helping locate these kidnapped Nigerian schoolgirls.
I have long been concerned abou violence and discriminination against women and girls, and I share you strong support for protecting their basic rights. Every day, women and girls are subject to abuse, violence, and discrimination simply because of their gender. This recent abduction is just one of many examples of abuse against women and girls, and the world must not tolerate such despicable actions.
Please note that I have made careful note of your views, and I will keep your letter in mind as I continue to monitor the situation in Nigeria.
Again, thank you for your letter. I hope you will conintue to write me about matters of importance to you. If you have any further questions, please do not hesitate to contact my Washington D.C. office at (202)224-3841. Best regards.
Sincerely yours,
Dianne Feinstein
United States Senator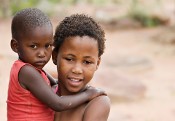 -Stock photo