Church & School Rights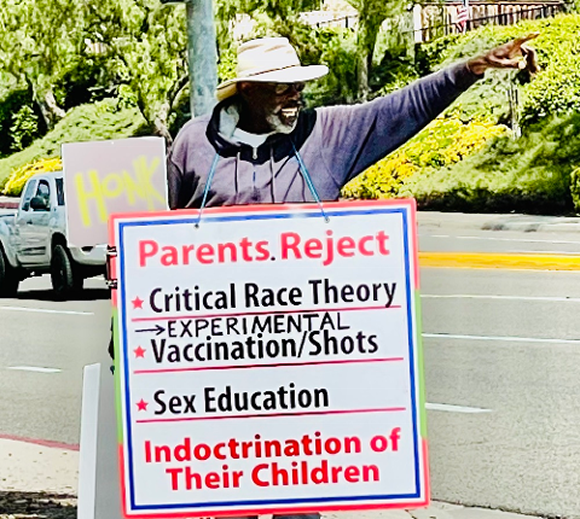 Photo: Chauncy 'Slim' Killens (above) can be seen -- and heard -- protesting on street corners in southwestern Riverside County.
-Photo © InterChurch News
_____________________________________________
Know and Defend
Your parental rights
+ + +
Alliance Defending Freedom (ADF) is on the frontlines providing legal assistance to intervene on behalf of Christians in protecting their constitutional rights as parents and citizens. The ADF website provides news and updates on current cases. ADF offers a parent's tool kit (Download version) on Critical Race Theory (CRT).
'Everything You Need To Know
About Parent's Rights In Public Schools'
-Alliance Defending Freedom (ADF)
_____________
Protecting and Defending Religious Freedom
'The NCRF is 501(c)4 political action non-profit that exists to proactively defend the constitutional rights of religious Freedom ... the NCFR is legally permitted to promote and endorse political candidates and can also support or oppose legislation or ballot initiatives.'
-National Committee for Religious Freedom (NCRF)
________________
Need more troops for Pro-Family Activism?
A leading pro-family activist organization with state chapters in California that 'provides the information and guidance people need to confront assaults on the traditional family, school children, and the moral foundation of society.'
______________________________
Additional Helps / Watchdogs
Freedom To Choose USA / Firefighters 4 Freedom
Health Freedom Defense Fund / California Parents Union
California parents United / Project Veritas
Golden State Strategy Group / Reform California
Home School Legal Defense Association
__________________
'... Let it be Known to you, O king,
that we are not going to serve your gods
or worship the golden image
that you have set up.'
Murrieta parents celebrate school board's parental notification policy for reporting student gender ID transitions; state protests vote -Valley News, August 11, 2023 / After nearly 3 hours of open mic, board discussion at Friday night special meeting, TVUSD board votes unanimously to accept controversial 'Social Studies Alive!' K-5 textbook curriculum -- with conditions -Valley News, July 22, 2023 / Calif. state official escorted out of school board meeting on gender policy -Daily Wire, July 21, 2023 / Temecula school board to vote again on social studies curriculum in special meeting, Friday, July 21, 7:30 p.m. (Livestream available) -Press Enterprise, July 20, 2023 / Chino Valley School Board votes 4-1 teachers to notify parents if a student is changing gender identity, pronouns, choosing opposite sex bathroom in school; Calif. uninvited Calif. State Superintendent of Public Instruction Tony Thurmond booted from meeting -Press Enterprise, July 21, 2023 / Calif. school superintendent kicked out, 'verbally attacked' at Chino Valley school board meeting -FOX KTVU, July 21, 2023 / Newsom announces contract to secure textbooks for students in Temecula -Office of Governor Newsom, July 19, 2023 / Temecula Valley school board trustee warns of impending AB 1078, clarifies her position to protect student's, parent's rights and uphold educational statutes (warning: vulgar word images from script excerpt of 'Angels over America' assigned in local drama class) -Valley News, July 14, 2023 / Temecula Valley school board president responds to Newsom's threatening tweet -Valley News, July 14, 2023 / Newsom orders state to send social studies textbooks to Temecula school district -- proposes $1.5 million fine -SF Chronicle, July 13, 2023 / California state senator tells parents to grab their kids and 'flee' state amid proposed AB 957 that would take kids away from non-affirming parents -Daily Signal, June 13, 2023 / Temecula Valley USD under investigation by California Dept. of Education after Harvey Milk/social studies curriculum flap -East BayTimes, June 12, 2023 / Why Gavin Newsom, state leaders are paying attention to Temecula's newly elected conservative majority school board -Press Enterprise, June 10, 2023 / 'Challenge accepted!' says TVUSD Board president responding to Gov. Newsom threat -Valley News, June 8, 2023 / Temecula school board president calls Harvey Milk 'pedophile' before book banning vote (Ed. Note: CBS News editorialized the Board supervisor's 'pedophile' May 16 meeting statement (referring to Milk) as 'baseless,' however click here to view references for the charge), CBS News, June 5, 2023 / Covenant shooter will haunt kids 'from beyond the grave' if writings are released, parents say -WSMV4, May 31, 2023 / Parent approaches Temecula Unified School District Board Meeting with excerpts from assigned local high school drama class material containing sexually explicit content, sexual violence (video) -Our Watch, May 16, 2023 / ACLJ Lawsuit: Nevada public school forces child to perform pornographic script, lies to parents and bans mom from reading script to school board -American Center for Law & Justice, May 11, 2023 / Bishop Unified School District to Pay $400,000 and Conduct Training for All Employees in Settlement Agreement for Harming Students During COVID-19 Pandemic -Health Freedom Defense, May 11, 2023 / English court rules 4-year old can be forced to join LGBTQ Pride Parade (video) -CBN News, May 4, 2023 / SoCal Christian teacher fired for refusing to comply with public school gender ideology, 'lie to parents' -Advocates for Faith & Freedom, March 22, 2023 / Federal lawsuit filed challengiing CA Dept. of Social Services cancellation of church school from child food program -Advocates for Faith & Freedom, March 16, 2023 / SoCal teacher says she was fired for not hiding student's gender preferences from parents -Eyewitness News, March 14, 2023 / Murrieta's 'Our Watch' files lawsuit challenging California's Transgender Sanctuary Bill -Press Release, Advocates for Faith & Freedom, March 7, 2023 / RivCo-based nonprofit sues California over constitutionality of transgender sanctuary law -KESQ, March 7, 2023 / Our Watch, a parental rights nonprofit based in Murrieta, files federal lawsuit over California's 'sanctuary state' legislative-passed law for in-state or out-of-state minors seeking transgender procedures -FOX News, March 7, 2023 / During the unprecedented 2020-21 COVID-19 lockdowns, a California church became the target of an unprecedented government surveillance operation -Silent Lunch, March 5, 2023 / California Teacher is fired after refusing to hide gender transitions from parents and saying it went against her beliefs: 'I realized that I couldn't be a Christian and a teacher' -Daily Mail, February 15, 2023 / Chico woman files federal lawsuit against Chico USD, claims violation of 14th Amenedment over district counselor allegedly 'facilitating social transition' of plaintiff's daughter -Chico Enterprise Record, January 14, 2023 / New Evangelical school board majority exposes deep polarization in Temecula -EdSource, December 19, 2022 / Conservative Christians eye control of southwest RivCo school boards -Patch, November 9, 2022 / Conservative Christian PAC's 7 school board candidates running in Lake Elsinore, Murrieta, Temecula -Press Enterprise, August 17, 2022 / Shocking sexual Indoctrination in California's K-12 public schools - Tipping Point video interview with Brad Dacus of Pacific Justice Institute / The Transgender Movement took this California mom's daughter's life (YouTube) -Daily Signal, March 23, 2022
______________
Citations providing basis for probable cause to refer to Harvey Milk as a pedophile:
1. Woke US Navy names ship after accused pedophile Harvey Milk -PM., November 8, 2021;
2. The Truth About Harvey Milk, -Illinois Family Institute, May 17, 2012
3. "In a 1982 biography of Milk, 'The Mayor of Castro Street,' the late journalist Randy Shilts ('And the Band Played On') describes a relationship he said Milk, then 33, had with a 16-year old named John Galen McKinley. McKinley was living with another man 'when he came in one day to announce that a handsome businessman twice his age was vying for his affection,' a passage on page 30 read. '... Within a few weeks, McKinley moved into Harvey Milk's Upper West Side apartment (in New York City). They bought a dog named Trick, a cat they callled Trade and settled into a middle class domestice marriage. At thirty-three, Milk was launching a new life, though he could hardly have imagined the unlikely direction toward which his new lover would pull him,' Shilts wrote."
'The Mayor of Castro Street' book excerpt from: 'Curriculum that mentions SF gay rights leader Harvey Milk blocked by Southern California school board' -East Bay Times, June 5, 2023